This article may contain affiliate links that can result in commissions for purchases, full details in our privacy policy.
One of the most common avenues for photographers these days is wedding photography. It's perfect for both seasoned professionals and beginners that are new to the industry. One common thing that you'll notice among wedding photography is the immense hulking amount of gear that they carry.
However, that's now becoming a thing of the past thanks to brilliant cameras like the Nikon D800. If you're a beginner looking to make their first step into the realms of professional photography, the D800 is a great option.
The camera is a 36.3-megapixel FX-format HD-SLR for professional photographers. When you first buy this camera, the jump in image quality will shock you. It's that noticeable. It features a fast and precise 51-point AF system that performs under all lighting conditions.
Another brilliant feature is the design of the camera. It features a beautiful ergonomic design that fits wonderfully into the hand. The size of the camera is compact as well and is slightly smaller than the D700. It's great to carry around with you on a long day of work.
 Photographers can easily access all the menus using an easy-to-use LCD. It features anti-glare coating, and auto-brightness control, allowing you to review your work at any point. The body is incredibly durable as well, thanks to the magnesium alloy construction.
An environmental seal helps ensure that the camera feels comfortable to use when you're out and about. There a whole host of reasons why the Nikon D800 is such a great camera for wedding photography.
Here are a few tips that'll help you.
Having The Right Lighting
One of the most essential tips for getting the best wedding photos is using the right lighting. Without the correct lighting, the pictures will look dull and won't really have that necessary pop. However, when you're using the Nikon D800, you're going to experience a significant jump in the quality of your images. Its dynamic range is unparalleled, and the color accuracy will leave you stunned.
An easy way to ensure that you have the best lighting for your photographs is by scouting out the venue beforehand. Visit the venue before the reception time and take a few sample photographs in areas where the lighting seems optimal.
If you feel like you're going to struggle with lighting, consider bringing an external flash alongside. Thanks to the Advanced Scene Recognition system that features a 91,000-pixel RGB light meter, images are rendered with incredible levels of accuracy.
Another reason that makes the D800 perfect for wedding photography is the ISO range. It goes from 100 to 6400 and is further expanded to 25,600. While you're definitely going to experience some noise when shooting at the highest ranges, from 100 to 6400, the images showcase minimal noise.
The camera's low light performance is brilliant, and it gives you a lot of creative freedom with your wedding photography. It also helps that when you take images from the D800 into post-processing, the incredible dynamic range will allow you to play with lighting even more. 
Framing Correctly
Proper framing is another crucial feature that sets apart the professional photographers from those just starting out. There is a general set rule of thumb to follow to get the right image composition.
However, before we get into that, here are a few things to watch out for when framing a subject. One of the biggest mistakes that beginners make is that they don't fill the frame enough. Instead of trying to zoom in, manually controlling the depth of field can help get a more captivating shot.
Another vital thing to avoid is including too many different elements in the frame. While there's room to get creative, the bride and groom should have undivided attention in their photos. Having too many features in a single frame can help detract from the overall composition of the image.
Now, if you're a veteran photographer, you're already familiar with the rule of thirds. However, those that are beginners tend to put their subjects directly in the center of the image. It might seem like the natural thing to do, but it fundamentally decreases the overall level of visual interest.
The rule of thirds simply dictates that the image is divided into three equal parts, horizontally and vertically. Photographers will then place the subject on the intersection between the lines, or along one of the lines.
The Nikon D800 makes following the rule of thirds very simple. If you're unsure about the framing, use live view and press the info button on the camera. It'll give you a framing grid that'll allow you to frame the subject more easily.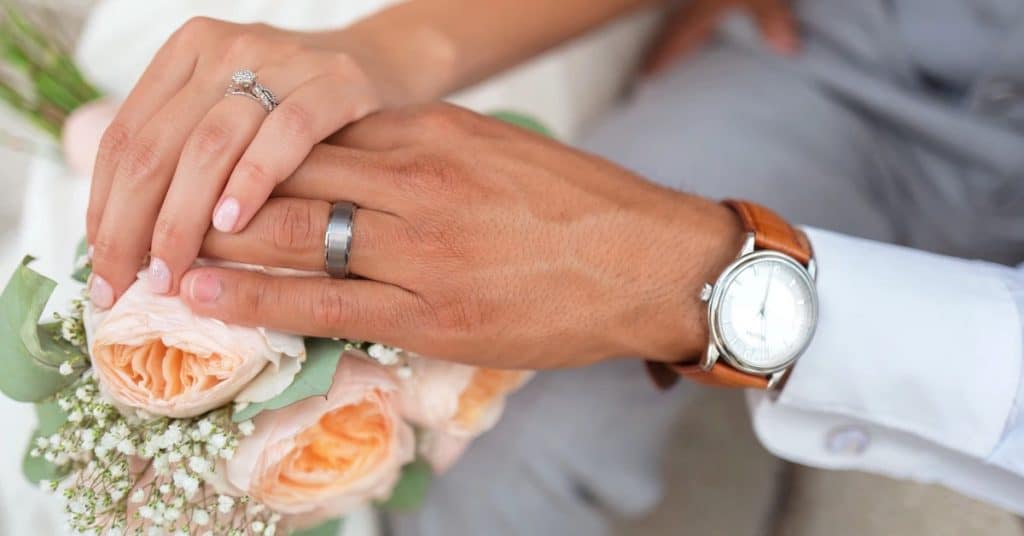 Using Your Style
One of the biggest things that you need to do to build your profile as a wedding photographer is standing out. There's a ceiling to the number of clients you'll attract if your pictures look like every other photographer's. However, if you manage to incorporate your own style into the wedding pictures, it'll significantly elevate your portfolio.
The Nikon D800 is perfect for this for a number of reasons. It offers several helpful framing tools that can provide you with more creative freedom. Another reason why it's so conducive to helping you find your own style is the high dynamic range. Thanks to the incredible range of the sensor, the images are super flexible in post-processing. It'll give you the chance to play around with lighting and accentuate shadows without worrying about any noise in the photos.
It's not going to be an easy job crafting your own niche in the industry. There are no shortcuts to plain hard work. The only way to discover your own style is by taking regular jobs and trying to do something different. Research what other photographers in the industry are doing and read up on techniques that you can incorporate.
As you gain more experience, your style of photography will evolve and progress as well. Once you hit your stride, there are very few cameras on the market that can offer the creative freedom of the Nikon D800. It also helps that super-high image quality is going to be a part of your style as long as you use the camera!
Keeping A Low Presence
As a wedding photographer, you must keep a low-key presence. You want to be able to capture natural photographs – the bride laughing, some guests chatting, and the groom smiling. Staged pictures come out beautifully, but there's something about natural photographers that's just magical.
However, capturing natural (or candid) photographs is no easy task. People tend to tense up and get awkward if they know they're being photographed. It can be an uncomfortable feeling. Guests, and the wedding party, don't enjoy photographers that are constantly hovering over them either. Imagine sitting at a table, chatting with your friends, and a photographer running around the table and clicking pictures of everyone.
Hence, you need to be able to take pictures without getting noticed. This is instrumental if you wish to become a good wedding photographer. Luckily, the Nikon D800 is the perfect camera if you want to to be as stealthy as a ninja. 
The Nikon D800 has a quiet shutter-release mode that's excellent for when you want to maintain a low profile. This mode reduces noise by disabling beeps and minimizing any sound produced when taking pictures. The mode also disables the beep that can usually be heard when you focus on a subject. 
Most of the noise coming from cameras is caused by the movement of the mirrors inside the camera. The Nikon D800 is built exceptionally well, and hence its quiet shutter-release mode works incredibly well.
Back Up Your Files
There's nothing worse than spending hours taking photos to lose them all to a corrupt SD card. Or taking the perfect bridal portrait only to accidentally delete it later on. Perhaps, the wedding party asks you to send an unedited version of a photo later on. In all these cases, you must have a back up of your files.
A great way to back up your files is by taking advantage of the Nikon D800's dual memory card feature. The camera has one SD card slot and one CF card slot. If you're using both slots, you'll have to assign one as the primary card. The other will automatically become the secondary card.
You can choose the secondary slot function from the menu. There are three options available:
Overflow: This uses the secondary card once the primary card is full.
Backup: Each picture is saved on both cards
RAW primary, JPEG secondary: In NEF/RAW+JPEG format, the RAW pictures are saved on the primary card, and the JPEG pictures are saved on the secondary card. 
The last two functions are what you should be using if you wish to have a real-time back up of your pictures. These are excellent because if one card messes up, you'll still have the other card's pictures. 
We also recommend that you keep extra SD cards with you during the event to maintain the back up. If one card messes up, you can simply switch it with your extra one.