This article may contain affiliate links that can result in commissions for purchases, full details in our privacy policy.
If you're looking to get started in the wedding photography business, you might want to consider investing in a decent camera that is professional but not too complicated to operate. The Nikon D7000 has proven to be a resounding success in both matters; it is a professional DSLR and does not make photography a tedious task. 
Its simplistic body does not intimidate the subject, and you can get candid shots very quickly. In fact, it has a unique "Quiet" single-frame mode that allows you to capture pictures without disturbing the couple at all. This ensures that the images capture the wedding's natural essence, one that is filled with joy and communion.   
The world today is moving towards simplicity and efficiency. Hence, to garner success in the wedding photography field, you'll need a companion that will save you time and give promising results. The D7000 has a 23.6 x 15.6 mm CMOS sensor, which will allow you to take crisp pictures in the first go so you won't have to worry about retakes. 
Additionally, it boasts an RGB color filter array and a 16.2-megapixel sensor. These will help you capture all the most delicate details of the wedding day, from the vibrant green grass to the sparkle of the rings. With this camera, you don't have to worry about battery life either as its EN-EL15 packs 13.3 Watt-hours give you up to 3000 shots on a single charge.   
Here are 5 tips on using the Nikon D7000 for wedding photography.
Use The Right Lighting
Photography is an art form, and most couples would want you to treat it as such. Light plays a vital role in creating exciting art, and subsequently, in photographing an image. Determining where to place shadows and highlights to accentuate the different features of the subject or add dimension to an image all carry a heavy weight when photographing. Since lighting is key to making an image come to life, you will have to experiment with different scenarios to get the best shot. 
However, one thing to note here is that you should have some pre-existing knowledge about lighting as you cannot waste the couple's time. You may have to walk around and see what kind of lighting is suitable. Some people may prefer to have their pictures taken indoors, in which case you will need artificial lighting or a camera that supports low light conditions. Luckily, the Nikon D7000 comes with a built-in flash and an auto ISO 100 feature. 
With this camera, you will be able to work under any lighting condition. The D7000 equips you with an ISO ranging from 100 to 25000, which means you can take images in even the poorest of lighting conditions. To enhance your and the couple's experience with the camera, this gear also features many different lighting modes, including cloudy, fluorescent, sunset, and monochromatic. These modes can be accessed easily through the dial placed right next to the flash. You can also add larger flashes through the many different ports available for add-ons.   
Frame Your Pictures Well
Another thing to think about when taking a picture is framing. This requires you to place the couple and the background in such a way that the image does not come out looking awkward. Many couples want to have a unique image from their wedding day to cherish and hang in their house. Your job is to provide them with that image! 
For example, suppose a couple is holding hands and walking along a path with trees surrounding them. In that case, your framing for that scene should be such that the couple's proportions should be calibrated to match that of the entire scene. It is essential to avoid any distractions and contortions in the image.
Similarly, suppose you're taking a silhouette picture. In that case, you should make sure that the horizon in the background does not cut through the couple's bodies at an awkward angle. Hence, framing becomes super important when taking a picture. 
The Nikon D7000 offers several features that can help you with framing. It boasts a 39-point AF system with 3D tracking, which will enable you to measure accurate dimensions before taking a picture. Moreover, the scene recognition sensor aids with metering and focusing on the subject, which will let you take the picture much more clearly and provide you with a good sense of proportions. 
With an eye-level pentaprism viewfinder, you can be sure to cover 100% of the frame in the image and avoid any distractions. In fact, this camera has a built-in diopter adjustment function (-3 to +1.0m-1), which will allow you to get a good sense of perception and framing the image will become easier.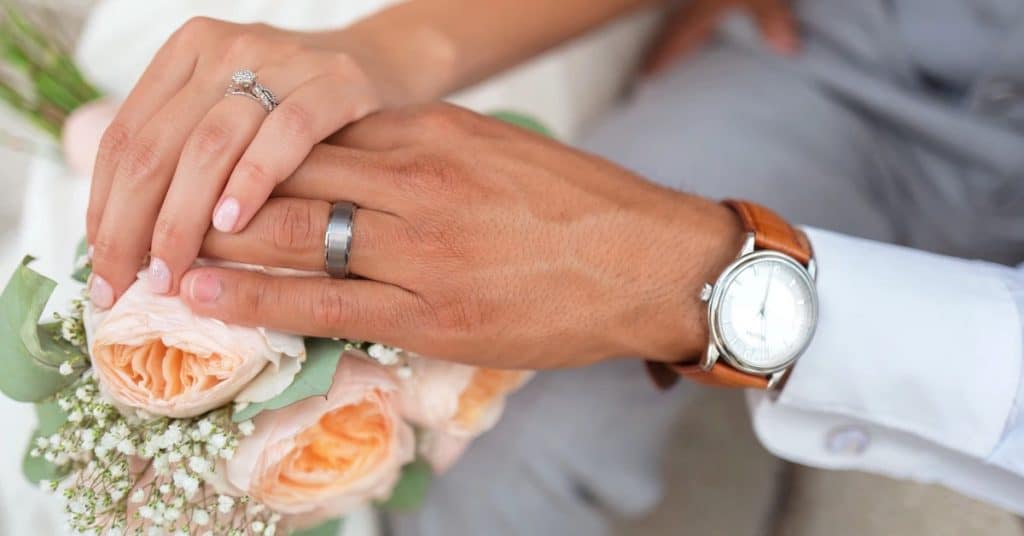 The Art Of Posing
The third most important thing when photographing a couple is posing. You don't want to take pictures that don't say anything, but you don't want to overdo it by creating too much noise in the image, either. To find the right balance for posing, you should try and play with subtlety. 
For example, if the couple is sitting on a little hill and is surrounded by grass, you can completely transform your images just by telling them to tilt their faces or play with their hair. You don't necessarily have to make them jump or make loud poses. Simplicity can do the trick just fine. 
The Nikon D7000 assists you with finding the right pose for the couple by using its Auto-Focus technology. This makes sure that the face is centered in the image and does not get blurred out in a particular pose. The camera has 39 AF points with 9 cross-type sensors, which makes it super convenient to focus the camera directly onto the subject. 
It uses the TTL exposure metering through the 2016-pixel RGB sensor to gauge the focus's distance and make sure to capture a clear image. The camera also comes with a metering range of EV 0 – 20 EV. Such a large range allows your subject to be far away and still be in focus. For example, if you want to capture the whole hill and the couple on it, they will still be in focus because of the extensive EV range.        
Show Your Personal Style
As a photographer, you should always express your personality in your style of photography. Having a personal style is essential for several reasons. Firstly, the couple may only choose to work with you because they may have seen your distinctive style that matches their taste. This increases your chances of getting wedding gigs as you're basically creating a niche market for yourself. 
Secondly, most couples are looking for an image that makes them happy, which often translates into a particular photography style. For example, some people may find monochromatic images romantic or may have fond memories associated with grainy photos.
Hence, it becomes essential for you to stay consistent with that style to sustain those memories that the clients want to cherish. There can be many different styles of photography to choose from, and the Nikon D7000 most certainly helps you find that style. You are able to select a photo mode from an array of options built into the camera.
From monochromatic to sepia to grainy images, you can choose whatever kind of photography you like. In fact, additional features like exposure control and the dial functions help you in manipulating imaging styles and creating something entirely new. With the manual tools, you can choose a combination of exposure, aperture, and ISO to transform your images into a distinctive style that only you possess. 
Always Back Up Your Files
The final thing that every wedding photographer must remember is to back up their files. Weddings can be very stressful for both the couple and the photographer. However, everyone must work efficiently to make it a seamless experience. Just like any other piece of machinery, cameras can be unreliable tools, and it is always wise to back up your data as soon as possible. You may do so by getting additional memory cards to make copies of images or bringing a device like a USB or a laptop to store pictures. 
Another way is to bring additional cameras so you can take images from multiple lenses just to be on the safe side. However, each of these images needs to be backed up on a cloud or a hard drive to keep the precious memories safe. The Nikon D7000 helps you in doing so by providing 2 memory card slots.
The camera additionally offers a manual function for you to decide how the second card will operate as a storage or backup site. You can simply go over to Menu and click on "Shooting" and then select the "Role played by card in slot 2" and choose "backup." This way, every image in slot 1 will be backed up in slot 2, so you don't have to worry about anything.